GymGoal
Workout Tracking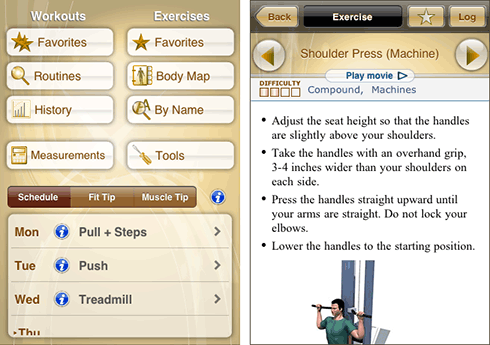 Three ways
The are 3 approaches to logging a workout:
log a scheduled workout
log a routine
log separate exercises
You can mix these methods.
Scheduled Workout. This is the fastest way to track your workouts. Just tap on the schedule to start logging.
Routine. Open the routine, open the first performed exercise, and tap the Log button.
Exercise. Find the exercise in any possible way, open it, and tap the Log button.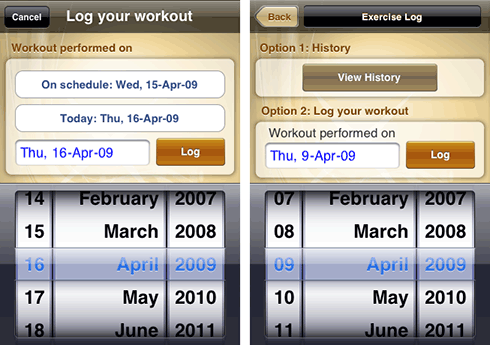 Workout performance date
You start logging your workout by entering the performance date.
The first picture shows how you enter the performance date for a scheduled workout. You can ignore the scheduled date and enter the actual date when this workout was performed.
The second picture shows how to enter the performance date for an unscheduled workout.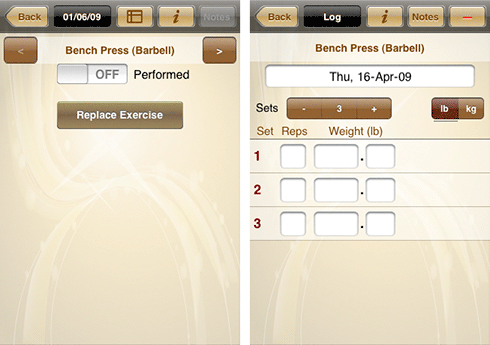 Routine vs. separate exercises
Routine (scheduled or not): (1st picture) you use arrows to select the next or previous exercise in the routine, and toggle the Performed switch to log the performed exercise or to skip it.
Tap the Replace Exercise button if you performed a different exercise. The exercise will be replaced temporarily, only in this workout log. To replace an exercise in a routine permanently, tap the Back top button to return to the routine details page, tap the top Edit button, and replace this exercise.
Tap the

button to see all the exercises for the selected day in this routine.
Separate Exercise: (2nd picture) you can change the date to move the log to a different date.
Tap the top – button to delete this log.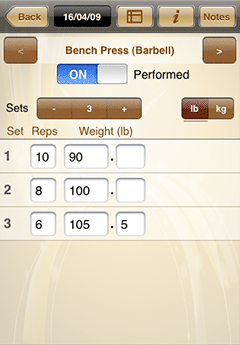 Weights (resistance exercise, anaerobic exercise)
Page header
Tap the top i button for the exercise instructions.
Tap the top Notes button to enter notes.
Performance data
Select the number of performed sets.
Changes are saved frequently to prevent from losing your data when the program is interrupted by a phone call.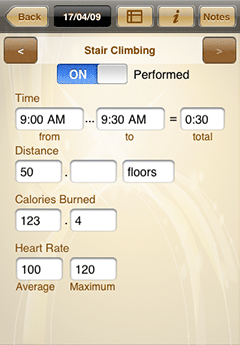 Cardio (aerobic exercise)
Page header
The header is the same as on the weights log page.
Performance data
Instead of sets, reps and weights, you enter time, distance, calories burned and heart rate. All fields are optional.
Time: changing the from or to time changes the total time. Changing the total time changes the to time, so that all 3 times always make sense.
Distance can be measured not only in miles or km, but also in laps, floors, or - (an unnamed unit).