GymGoal
Settings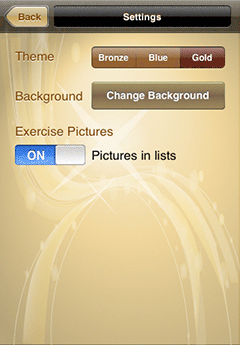 Theme
Select a theme.
Background
Each theme comes with three backgrounds. Select a background.
Exercise Pictures
Choose whether you want to see pictures in all lists with exercise names. Pictures in list can consume large amounts of memory and sometimes cause GymGoal to quit.
If you turn the switch off, it is recommended to reboot your device to clear the pictures from the device's cache and to free the memory. There is no other way to clear the picture cache.