GymGoal
Workout History
Workout History vs. Exercise History
Workout History shows data for several exercises at once. Exercise History shows data for one selected exercise.
You open Workout History on the Home page, by tapping the History button in the Workouts group.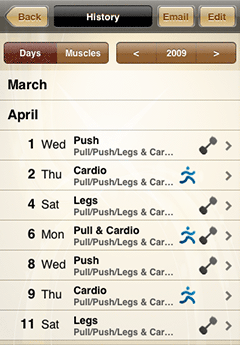 Days
The Workout History page shows all days when you worked out.
Select a year, then tap on a month to see all logged workout days for this month.
Every workout row in the table shows the day, title, subtitle, and an icon. The
icon indicates that there are some cardio workouts logged on this day. The

icon stands for strength (anaerobic) exercises.
Tap on a day to see your detailed workout log.
Page Header
Tap the Edit button to quickly delete obsolete or wrong workout logs.
Tap the Email button to send this log to your email. The log will be sent in a tab-delimited text file, ready to import into any spreadsheet.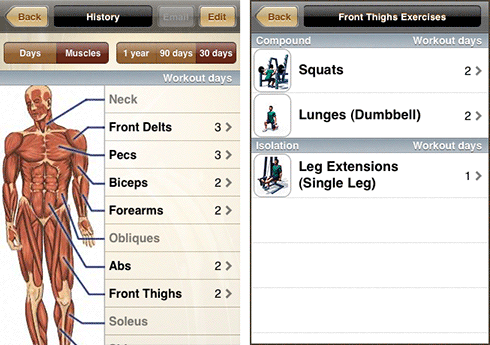 Muscles
When you switch to Muscles, this page shows the number of days (within the selected period) when you worked each muscle. In the example Front Thighs were worked 2 days out of the last 30 days.
Select a muscle for more details. In the example you can see that three exercises were logged, two of them are compound and one is isolation. Legs Extensions were performed once in the last 30 days, when each of the other two exercises was performed twice.
This page can be used to find muscles that need to be worked more.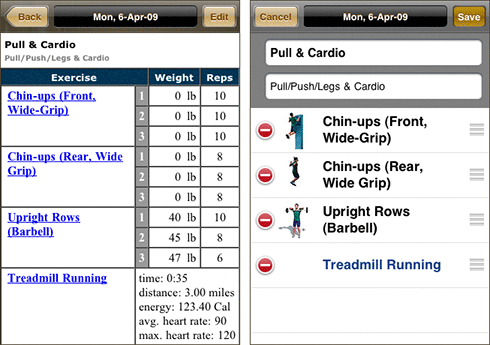 Selected Day's Log
The table lists all exercises performed on the selected day.
When you log a routine (scheduled or not), the title and subtitle are copied from that routine. If you log only separate exercises, the title and subtitle are blank.
Exercise names link to the exercise performance history for the selected exercise.
Edit
You can edit the title and the subtitle. You can rearrange exercises or remove them from the day's log.