GymGoal
GymGoal is a premium workout helper. Extensive animated exercise database, workout scheduling, progress tracking, tracking measurements, professional features - GymGoal has it all.
This is the most powerful, expandable and adjustable fitness/bodybuilding/workout app.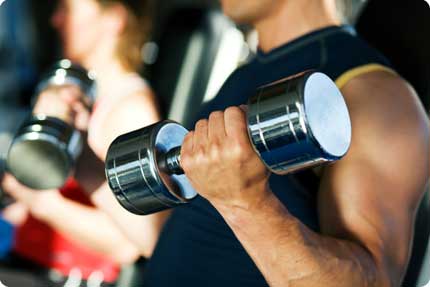 GymGoal was featured in The New York Times, Consumer Reports, The Daily.
You can depend on GymGoal
GymGoal is used by over a million people, from beginners to pro bodybuilders to trainers.
GymGoal is in the App Store since 2008 - updated regularly with new features.
A good workout app will serve you for many years. Some apps are very easy to use, but you soon realize that they are very limited and almost useless. GymGoal is very powerful, flexible and professional.
If you are a seasoned gym goer or a pro, look no further! GymGoal is used by many pros and trainers. You will not find another app that supports all features like supersets and drop-sets, split routines, rotating schedule, editable history. Workout logging is super-flexible: you can change the number or sets, use different reps and weights for each set (its essential, but many apps lack this feature), copy reps and weights from the history, skip, replace or add exercises during your workout and even create custom exercises on the fly. History reports include exercise load and intensities tracking, and much more. We provide free server backup, so that you never loose your data. All your data can be emailed to your computer, where you can further analyze it.
If you are a beginner, GymGoal will organize your workouts and teach you how to work out for strength, muscle size or weight loss.
Explore the features, and soon you will realize that learning GymGoal is an investment well worth the effort!
User review from AppStore
This is the best workout routine app! ★★★★★
by sk8ndavid
I've been using GymGoal Pro for a couple of weeks now and I'm very impressed with its features and flexibility.
I had been using -other-app- for years but it has not been updated since 2014. I tried -another-app- and was underwhelmed - no ability to add your own exercises, could not add sets to a routine on the fly during a workout and cardio data is completely lacking.
So I purchased GymGoal Pro and this is a keeper! There are so many useful features that getting up to speed may take some time.
You can modify the routines and exercises that come with the app and create your own routines and exercises. Interfaces with smart bluetooth heart rate monitors and provides current HR and a graph of HR for entire routine.
Easy to add or subtract additional sets during your workout and can record different weight, reps and rest time for each set. Nice log to enter text notes that impressed me. The user interface is rich with information and fairly intuitive. History is easy to access either by date or by muscle.
Easily worth the price and when you add in the flexibile and customizable features, this app is a bargin.
Great app ★★★★★
by rsd22
I seem to have tried all the workout tracking apps. Really, I tried even the downright junk tracking apps. But I always come back to GymGoal. I downloaded all the usual suspects, but it always seemed like there were one or two issues with those apps that GymGoal seemed to solve. Plus some of the work out apps that are considered premier apps where just horrific when inputting sets and reps.
Honestly I don't know why I would ever look at another gym tracking app. GymGoal seems to have it together while others seem to struggle with the very basics.
Also, I contacted the developer recently and found out that my issue was simply user error. Serge got back to me straight away, and got me all fixed up. I recently paid $9.99 for another app, contacted the developer twice, but they never responded to me to me once. Serge got back to me straight away. Sure, be like me and download every Workout tracking app known to mankind, but you will come back to GymGoal because it just plain works. And it does the job nicely. Thanks for a great app Serge and for even better customer service.
*Disclaimer: these reviews were not solicited. The reviewers are not associated with SmalTek.