7

Measurements
7.2

Measurements section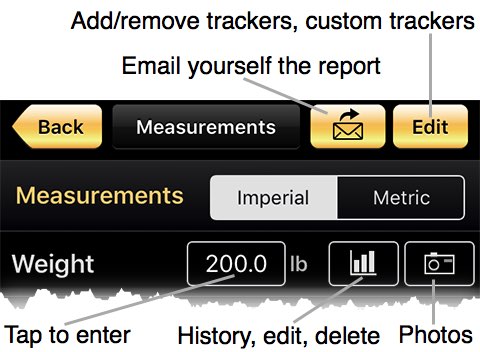 Measurements section offers 13 standard trackers and 6 custom ones. Tap Edit to arrange them.
Select Imperial (lb, in) or Metric (kg, cm) before entering your measurements.
New
Tap the data entry field to enter the measurement. The next screen has a date field with today's date – you can leave it unchanged or enter a date in the past, if this measurement was entered earlier.
If you have already entered a number for the same date, the new entry will replace the older one.
Some trackers ask for a single number, others ask for two – left side and right side. You may leave one side blank if you do not want to track it.

History, Edit, Delete
Tap the graph button to view this tracker's history as a graph or a table.

The history page has this selector at the top. 123 opens a table of history data, the other choice is a graph. Tap a number in the table to edit it. You can delete history records by either swapping them right-to-left with your finger, or using Edit button at the top.

Photos
You can track your progress with photos. They can be taken with your device's camera or imported from your photo library. Each photo can have a description. If you take photos with the camera, you can email them or export them to your photo library.